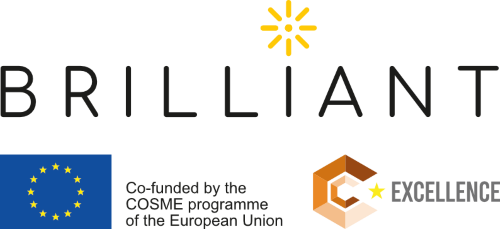 BRILLIANT – Boosting excellence in the European lighting value chain (2020 – 2022)
Cluster of Czech Furniture Manufacturers is project partner of the newly granted European Cluster Excellence project – BRILLIANT whose consortium has just signed the Grant Agreement with the EASME Agency – COSME Programme! The project activities will kick-off on February 2020!
In the era of the knowledge economy, knowledge management is increasingly important, as it is one of the core factors influencing enterprise competitiveness, affecting innovation performance and sustainable development. Technological progress and globalisation are revolutionising the way of doing business, offering tremendous opportunities for innovation and growth. Lighting is one of the few sectors of building industry that has undergone the most revolutionary changes in the last years. The rapid evolution of lighting technologies and IoT systems in buildings offer emerging market opportunities for the EU lighting, furniture and construction industry. And clusters must be in the front line to support their companies in seizing the business opportunities and become competitive on the global market. These challenges require skilled and adaptable people who are able to drive and support change.
The main objective of the BRILLIANT project is to support its project partners – cluster organisations in closing these gaps and exploiting the full innovation and grow potential that clusters can offer to their SME through added-value services and efficient organisational structure and governance.
BRILLIANT will support 7 industrial clusters of lighting, furniture and construction sectors in exploiting their potential as industrial network, by increasing skills and know-how of clusters managers in managing their cluster organisations to better serve the needs and expectations of their firms. Managers will develop complete and longstanding cluster strategies, based on clusters' distinctive value proposition.
BRILLIANT will endorse cross-cluster learning and networking to explore and take up new business deals coming from Smart Home and Building concepts.
Furthermore, partners will take advantage of the ClusterXchange professional programme for SMEs to facilitate international, sector, and cross-sector cooperation between clusters, SME and scaling-up organisations. Design-thinking, experiential learning and business model tools will be adopted in training and networking to help clusters outline better their vision, objectives and services from different perspectives. Above activities, like pieces of a puzzle combine with each other creating an important contribution to cluster management excellence.
Web page https://www.brilliantclusters.eu/
CONSORTIUM:
The European Clusters involved in the project represent ecosystems and in particular, companies operating in various segments of the building sector, that interplay in the lighting value chain – lighting clusters, furniture clusters and construction cluster, with complementary expertise necessary to establish a fruitful mutual learning paths, knowledge co-sharing and cross-sector cooperation processes to seize the emerging market opportunities and become competitive on the global market.
The BRILLIANT project partners:
ELCA – Project Coordinator – European Lighting Cluster Alliance
Cluster Lumière Association, France
Rete di Imprese Luce in Veneto, Italy
Cluster d'Illuminacio de Catalunya – CICAT, Spain
IQ Kecskemet – MIENK Cluster, Hungary
Klastr Ceskych Nabytkaru Druzstvo – KČN, Czechia
Cluster Legno, Arredo e Sistema Casa Fvg Srl Consortile, Italy